This week we return to those wonderful reptiles, finally covering the dinosaurs. As you may imagine, the Web is rich in sites about these beasts. Some of these pages are excellent, some are horrible, most are tolerable (and long). The American Museum of Natural History has an excellent dinosaur website. Their dinosaur facts page is good too. You want YouTube dinosaurs? Click away and spend hours. Other impressive dinosaur websites include that of Paul Sereno, one of the most productive dinosaur paleontologists in the world and virtually an industry to himself. I can vouch for the accuracy, more or less, of the Wikipedia page on dinosaurs. The Dino Directory from the Natural History Museum in London is useful and current. The LiveScience site has the latest dinosaur news.
Your second test will be on Friday, April 5. Our review session is on Thursday, April 4, 3:30 – 4:30 p.m. Here is a copy of the Fall 2018 second test for your study. (No student answers this time.) Your test, of course, will be different. Those student answers are not optimum, just good enough for full credit. As with all sample tests, our current class has covered somewhat different material. Test seating: Students with last names starting with M through Z in Room 205 (our regular room); A-L in Room 216 (across the lobby). Test doors open at 7:50 a.m.; all tests due at 8:50 a.m.
Here  is our Classification of the Phylum Chordata used in this course. It is a list edited just for you. Yes, you do need to know all these names.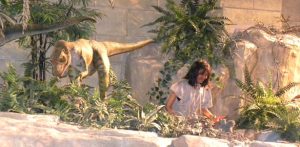 Girl and dinosaur at the Creation Museum in northern Kentucky. For this to make any sense, you'll want to read my Wooster Geologists blog entry about our visit. (Click to expand the image.)
Geology in the News –
At least one Cretaceous shark (Squalicorax) ate one pterosaur (Pteranodon) based on a chewed-up wing bone. Must have been quite a scene at the time!
Here's an interesting article speculating on how the dinosaurs would have fared without the asteroid impact. It turns out to be a complex statistical problem to solve. Of course, we mean the non-avian dinosaurs!
A new reconstruction of Tyrannosaurus rex is now on display at the American Museum of Natural History, and it is a feathery masterpiece. Not without controversy, of course!